Roast Beef
All sandwiches come with your choice of BB Kettle Chips, Baked Chips, Baby Carrots or an Apple. Pasta Salad, Fat-Free Vinegar Slaw, Small Soup or Salad come on the side for an extra charge. Gluten free wraps are available as a bread alternative on any sandwich or salad for an additional charge. 
All Beyond Bread Roast Beef sandwiches are made with Certified Angus Beef ®. Angus beef must meet 10 exacting standards, making it especially tender and an overall better quality roast beef.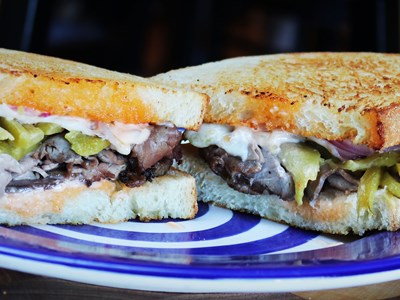 Brad's Beef
Roast beef, provolone, green chiles, red onion, Russian dressing on White. 
~ Served HOT ~
12

Gordo's Gorgonzola
Roast beef, garlic gorgonzola sauce, red onion on Rustic. 
~ Served HOT ~
12

Betty's Brie
Roast beef, brie, tomato, mayonnaise on a Baguette. 🦷Crusty Bread
half 8 — whole 12.5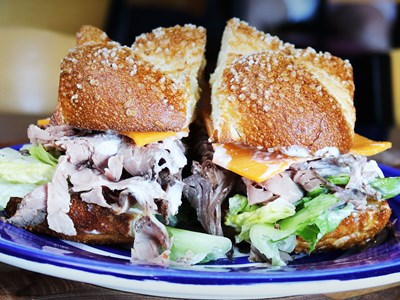 Roger's Roast
Roast beef, lettuce, sharp cheddar, horseradish sauce on toasted Pretzel bread. 
12